Food and the Social Order
White Bread: A Social History of the Store-Bought Loaf by Aaron Bobrow-Strain
Editor's Introduction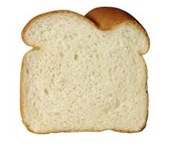 The current generation of food writers has taken this topic and turned it into an entire field of study. Talented writers like Mark Kurlansky, Evan D.G. Fraser and Andrew Rimas, Tom Standage and especially Michael Pollan of Stanford have discovered a treasure of fascinating people and powerful themes in the products so familiar to each of us – the carrots in our lunch boxes, the meat in the freezer, the fast food hamburger we grab in between appointments, the sandwich that is our midnight snack.
In his excellent book White Bread: A Social History of the Store-Bought Loaf, Andrew Bobrow-Strain delves into the surprising history and development of a food found in every  kitchen. Bread in America, a reader quickly understands, is far more than food. As he says in the book's Preface: "This is a book about one commodity – industrial white bread – that has played an incredibly important, and largely unnoticed role in American politics, diet, culture, and food reform movements, but it is not another story about how a food 'saved the world.' Rather, it's a history of the countless social reformers, food experts, industry executives, government officials, diet gurus, and ordinary eaters who have thought that getting Americans to eat the right bread (or avoid the wrong bread) could save the world – or at least restore country's moral, physical, and social fabric. Sadly, this turned out to be the difficult story of how, time and again, well-meaning efforts to change the country through its bread ended up reinforcing forms of race, class, and gender exclusion – even when they also achieved much-needed improvements in America's food system."
It is an epic tale. It is also a readable tale, thanks to the author's narrative skills. It is also well-suited for a classroom – I find that my students will almost always listen to a lesson plan about food. For the general reader – who, like me, likes to eat but knows little about food production — at least four important ideas come out of the epic narrative of white bread:
1) Food is political. A literary critic like Edward Said maintains that every story is a story but also a political statement, either subtly or overtly. The same might be said of a food: every food represents a series of choices, or series of events in which you, the consumer, are complicit. As Fast Food Nation and SuperSize Me, perhaps the two most dramatic works of the recent wave of the "politics of food" made clear, our food choices have consequences.
2) Food is at the heart of our economy. A colossal cast of workers in an intricate global network of corporations, family farmers, field workers, butchers, bakers and truckers and chefs and waitresses earn their livings bringing you and me our three daily meals. Growing food is what America does, and it is the first job of every nation, every empire.
3) The ingredients of food and methods of its preparation can have enormous range and enormous effects, particularly when multiplied by the hundreds of thousands of men, women and children who bite into buttered white bread toast at 7:00 a.m. every day.
4) We all need to understand how our food arrived at the table. If democracy requires educated participants in order to be beneficial, so does eating.
Andrew Bobrow-Strain's book is an outstanding entry point into this rich world of food politics. In the interview and review that follow, you can begin to see the many resources he brings to his subject.
Resources:
---
© Journal of Empire Studies 2013