War and the Natural World
"Scarred Lands & Wounded Lives: The Environmental Footprint of War" by Alice and Lincoln Day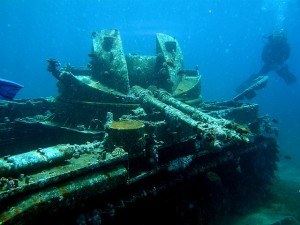 Editor's Introduction
My cadets always listen carefully to the "Law of Unintended Consequences." It is a law that applies in the most surprising of contexts, none more so than warfare.
The unintended consequences of war—both good and bad—are fascinating to my students. My cadets always engage with lesson plans on the technology that came out of World War II, for example, or the packs of wild dogs in Vietnam which are the descendants of U.S. canine corps from the late 1960's, or the marine sanctuaries formed by sunken battleships.
In their visually dramatic and far-reaching documentary film, "Scarred Lands and Wounded Lives: The Environmental Footprint of War," filmmakers Alice and Lincoln Day bring to light another dimension of unintended consequences: what war does to our ecologies, both global and local. In a passionate and well-researched narrative, the film documents the impact of battle on its "silent casualty," the natural world.
What follows is a lengthy and thoughtful interview in which the filmmakers talk about the implications of this largely unstudied impact. As a teacher, I regard the Days' work to be a wealth of original lesson plans that can be scaffolded in a number of directions. They mention over a dozen supporting works at the end of the interview, many of which can be accessed online. The interview below along with clips from their film can serve as an introduction to the study of war as well as the study of ecology.
As citizens, we are all at war. It is invaluable, I think, for our students to understand all aspects of war; their generation will bear its own share of war's legacy. I hope you will take the time to follow the trail to their web site www.scarredlandsfilm.org and a full viewing of the film itself.
---
Lesson Plan
Objective: After watching a documentary on the effects  war has on the environment, reading an interview with the filmmakers, and answering the discussion questions below,  learners will be able to explain the unintentional consequences of war on the environment, analyze the importance of these consequences, and discuss how such damage could be mitigated, prevented, or repaired.
Resources:
---
About the Authors. Alice T. Day and Lincoln H. Day met at Columbia University as graduate students in sociology. Their earliest joint project was a book (Too Many Americans, 1964) about how continued population increase can adversely affect the quality of life not only in less developed countries but also in more developed countries. The Days have traveled extensively in the United States, Australia, Europe, and Turkey, and less extensively in Asia, Africa, and Latin America. They lived in Australia for 23 years and have dual American/Australian citizenship. The Days have a son and a daughter and three grandchildren.
---
© Journal of Empire Studies 2012